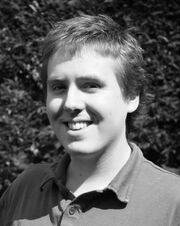 Alex Skerratt wrote The Big Day Out alongside Wink Taylor and Richard Cadell. He went on to co-write the 2011 series of Sooty as well as two web-cam and twelve radio sketches for the official website. He also made a backgroud appearance in The Big Day Out. He can be seen dancing in the "Let's Have Fun with Sooty" song. He also made a fleeting appearance in the episode Chocco Chimp with Wink Taylor as a golfer.
Episodes Written
All episodes in Series 1 were co-written with Richard Cadell and Wink Taylor, apart from one episode that Wink Taylor wrote by himself.
Trivia
External Links
Community content is available under
CC-BY-SA
unless otherwise noted.