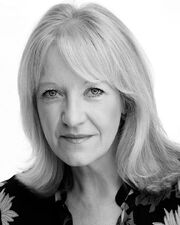 Brenda Longman (born in Chelsea, London) is an English actress who starred as Soo's voice and Mo in Sooty & Co. and later as Dotty in Sooty Heights.
She has been with Soo since 1981 (35 years as of 2016). In the second series of Sooty on CITV, she was replaced by Sheila Clark.
However, she has now returned and in the new series she will be voicing Soo and playing Mo as well as filling a few minor, background roles. In the first season of the 2011 series of Sooty, she can be seen attending Sooty and Soo's imaginary wedding in the episode, The Wedding. In The Great Race, she lends Richard and Sweep her mobility scooter and in The Runaway Bath she can bee seen moving out of the way of Sweep's runaway bath with Wink Taylor. In the second series, she provided the scream at the end of Fitness Funatic, was seen in person when she attended the grand opening of the new toilet in The New Building and played a lady with an ice-cream twice; first in Five Star Fish alongside Wink Taylor and again in The Genie this time alongside Brian Sandford. She was also a customer for Sooty, Sweep and Soo's spicy soup stall in Fireworks and took part in the dog show in It's a Dog's Life. She also voices the telephone operators when Richard enquiries about his luxury holiday in Some Holiday; All these roles are uncredited. She did receive credit for her role in Sooty's ABC Adventure.
In The Sooty Show series she played a few minor roles such as a Bowls Player and a Lunchlady.
She was also meant to reprise her role of "Mo" in Sooty, but Mo has be absent for the first two series.
Trivia
In 2008, Brenda Longman went up against Maurice Thorogood on the BBC's "Bargain Hunt". Brenda was on the the red team and Maurice was with the blues. Brenda's team was the winner.
Brenda Longman and Peter Dickson both appeared in the voice over special of "Pointless Celebrities". Peter also teamed up with Jon Briggs who used to do the voice over on "The Weakest Link", the game show where Brenda played Soo for the puppet special and won.
Gallery
Community content is available under
CC-BY-SA
unless otherwise noted.