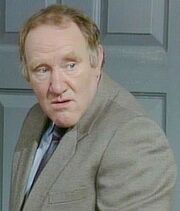 Derek Deadman (born March 11th, 1940 in Fulham, London, England, UK) was a British actor. He appeared on the sitcom "Never the Twain", and as a Sontaran in an episode of "Doctor Who". He has also had minor roles in the films "Time Bandits" and "Porridge" and is perhaps best known to younger audiences as Tom, the barman of the "Leaky Cauldron", in "Harry Potter and the Philosopher's Stone". He has also had numerous small roles in other television series and films.
In The Sooty Show, he appeared as himself and the Comedian in the 1988 episode entitled Superdog and the Comedian. He later appeared as a driving instructor in the Sooty & Co. episode, Driving Lesson.
He died in Frespech, France, November 21st, 2014.