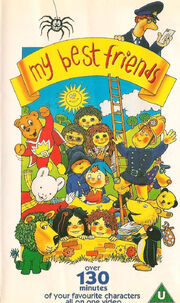 My Best Friends
is a children's compilation video. It features a clip from Sooty's A to Z of Animals.
Characters and Episodes
Noddy's New Friends
Rupert and the Knight
Rosie and Jim - Automata
Postman Pat's Birthday
The Herbs - The Chives Catch Cold
Fireman Sam - Brass Band
Revolting Rhymes - Goldilocks and the Three Bears
Astro Farm - Astro Dragon
Spider comes to Stay
Super Ted Kicks up Dust
Pingu's Circus
Paddington - Do it Yourself
Sooty's A to Z of Animals (clip)
Tots TV - Hiccups (clip)
Trivia
All of the programmes, except Sooty, show a whole episode. Sooty only shows a five minute clip because it was taken from Children's Pre-School Favourites.
The programmes were specially chosen by the person whose character was their favourite.
Goofs
Noddy's New Friend has an 's' on the end of the title but Noddy only made one new friend in the episode.
The Chives Catch Colds is missing the 's' on the end of the title.
The back cover states that the Tots TV episode is "Camel", but instead an extract from the episode "Hiccups" is shown.
Scampi is mentioned in the intermissions but he does not appear in Learn with Sooty.
Gallery