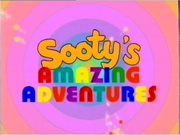 Sooty's Amazing Adventures is a short-lived Sooty & Co. spin-off. It only lasted for two series. It was produced by Cosgrove Hall Productions.
Summary
Sooty and his friends magic themselves into "human-form". They are residing at the Fanshawe Theatre in an unnamed British coastal town. The stage's trap-door can transport them magically to anywhere in the world (but it often makes mistakes).
Apart from the many friends Sooty and the gang meet on their adventures, there are two recurring characters, one named Katarina, an aged, well spoken Persian cat who doesn't stand for nonsense and often criticises the gang's conduct, and one named Captain Fogbound, a hot air balloon pilot who is courting Katarina and speaks with a stereotypical RAF pilot voice.
Episodes
Series 1
Series 2
Voice cast
Trivia
Gallery