This article is about the book. You may be looking for the episode.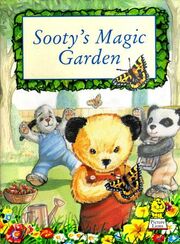 Sooty's Magic Garden is a book published in 1993 by Picture Lions. It was written by Mary Douglas.
Plot
Sooty, Sweep, and Soo are looking forward to eating some juicy strawberries from their garden, but unfortunately they are not the first to reach the strawberry patch. How can the three friends persuade the guzzling caterpillars to go somewhere else for their lunch?