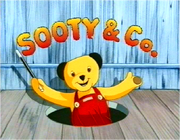 The Sooty & Co. Theme Tune was sung by Matthew Corbett and is shown at the start of all the Sooty & Co. episodes. The song is by Dave Corbett.
Lyrics
Hey! Ho! It's Sooty & Co.!
Everybody say "Hello"!
There's Sooty and Sweep,
a panda called Soo,
and Little Cousin Scampi, too!

They'll be fun galore
With the terrible four
Just you wait and see
It's Sooty and Company!
Sooty and Company!

Song