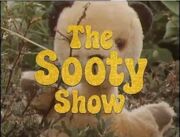 The Sooty Show was a programme starring Sooty that aired from 1952-1992, produced by the BBC and then Thames Television. It was first presented by Harry Corbett, later by his son Matthew.
Most of the episodes consisted of important lessons such as being organised and not telling lies, while others consisted of Sooty coming up with a new idea or Matthew boasting he was good at something and making a fool of himself.
Cast of Main Characters
TV Episodes: 1981 - 1992
Series 1: 1981
Series 2: 1981
Series 3: 1983
Series 4: 1983-84
Series 5: 1985
Treasure Hunt
Alphonse (Aka Robot)
Series 6: 1986
Series 7: 1987
Series 8: 1988
Series 9: 1988
Series 10: 1989
Series 11: 1990
Series 12: 1991
Bored Games
Series 13: 1992
Magic Egg (Aka Rodney The Dragon)
Trivia
This was Sooty's very first show.
Harry Corbett recieved an OBE, quite by accident, for his dedication to this show.
This marked the debut of Sweep, Soo, and Little Cousin Scampi.
It was mostly set in four main areas of the house: Sooty, Sweep and Soo's bedroom, Matthew's bedroom, the kitchen, and Sooty, Sweep, and Soo's bathroom.
In 1992, Thames Television lost the rights to the Sooty series and Matthew took the show to Granada Studios, where Sooty & Co. was made.
Brenda Longman who was the puppeteer of Soo made some appearances in person.
The opening titles changed through the years. Three of the best known ones are Sooty painting (1981-1984), holding balloons (1985-1987), and clips of the show with the kalideoscope effect (1988-1992).
In 2005, the series ranked 38th place in Channel 4's 100 Greatest Kid's TV Shows vote.
In the Radio Times' poll for the most favourited children's programme at the BBC in 2014, the series won the most votes for the best programme of the 1950's. It was also voted the third most popular show in the all time top 3 of the same poll, just below "Postman Pat" (2nd), the winner of the 1980's catergory and "Shaun the Sheep" (1st), the winner of the 2000's.
In 2017, a selection of early puppets from the show appeared on the "Antiques Roadshow" at Castle Howard in Yorkshire along with the daughter of Harry Corbett's early props maker.
Gallery
Community content is available under
CC-BY-SA
unless otherwise noted.