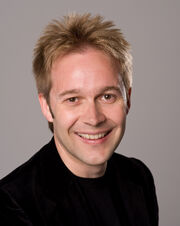 Wink Taylor writes episodes of the television series alongside Richard Cadell and Alex Skerratt. He also appeared in the special as Dickie Blazer, the talent show host. He is also part of the production team and is present during the filming of the series.
Wink often appears, uncredited, in the series playing background or minor roles. Some of these roles include the salesman who sells Fred Firewheel his second go-kart in the episode, The Great Race and a clown in Who's a Clever Bird?. He often appears as a maintenance man or an elderly man. The elderly man appears in the educational special, Sooty's ABC Adventure. This is the first time Wink receives credit for this role.
Other writing credits include "Postman Pat" and "Basil Brush".
Episodes Written
All episodes in Series 1 were co-written with Richard Cadell and Alex Skerratt except for "Sooty of the Seven Seas".
Series 1 - The Wedding, The Swimming Lesson, The Great Race, Squeaky Clean, The Farm, Poorly Soo, The Souvenir Stall, The Alarm System, The Sports Day, Sooty of the Seven Seas, The Wendy House, The Magic Show, A Drive in the Country, The Great Outdoors, The Children's Party, Down the Drain, Chocco Chimp, Who's a Clever Bird?, Beach Patrol, The New Poster, Pizza to Go, The Runaway Bath, Run Rabbit Run, The New Ride, The Marching Band and The Pop Concert
All episodes in Series 2 were written solo, unless noted otherwise.
Specials:
Trivia
Wink, along with Sooty's make-up artist Wendy Abrahams, have created their own puppet show about a cheeky mouse called Theo.
At one point, Wink was asked to take over as presenter for the live shows in Richard's absence. He turned the job down to work with Basil Brush.
Gallery
Community content is available under
CC-BY-SA
unless otherwise noted.